Our Breeding Priorities
All dogs at CFAR have hips and elbows checked before breeding and all our adults receive regular checks by a veterinarian to ensure that we are breeding from healthy and robust dogs. While concerned with physical health, we are also committed to our priority of breeding from all-around sound dogs and we are just as concerned about temperament. A big beautiful dog is not practical if he is aggressive. We pride ourselves on having Tibetan Mastiffs that are not only nice-looking, but also able to be loving and trusting family members. This does not come to pass without lots of time and dedication from both the breeder and the new owners.
All of our CFAR puppies are raised in the house, exposed to other dogs, and given lots of attention. They meet other family members and friends and we hope this socialization continues as they go to their new forever homes. Before leaving CFAR, all puppies are de-wormed, micro-chipped, checked by a veterinarian, and have received age appropriate vaccinations. All potential homes are screened carefully and it is our sincere hope that we will begin a lifelong friendship with new owners. We look forward to receiving regular updates on each puppy's progress as he grows to adulthood. We would very much like to continue to be each puppy's advocate for as long as he lives so, should problems arise, we remain a source of support and information.
CFAR Tibetan Mastiffs encourages those thinking of acquiring a TM puppy to do as much research about this breed as possible. Contact and visit many breeders and obtain references to other Tibetan Mastiff owners.
Before committing to a Tibetan Mastiff puppy, you will need to ask yourself the following questions:
Do you have a fully fenced escape proof yard?
Are you aware the TM can be a barker?
Are you prepared that puppies can be destructive if left alone unsupervised?
Do you have time to socialize your puppy every day and routinely into adulthood?
Do you have a strong character to let the puppy know that you are "in charge"?
It may seem cute when a fluffy puppy is challenging you, but a dominant puppy without leadership can grow to be very difficult to handle. A Tibetan Mastiff left to rule himself is not a happy Tibetan Mastiff.
Take the time to discipline your new puppy with kindness and firmness. Socialize your puppy by bringing him into public situations and have friends and family come over to your home regularly. Enroll your puppy in obedience or dog handling classes. You may not like the idea of showing dogs but the interaction with other handlers and their dogs will be invaluable!
Are you prepared for the many stages that a TM puppy will grow through as he matures into adulthood? Tibetan Mastiff puppies go through many changes as they mature. At each stage, the new owner must recognize behavior patterns and gently lead the puppy into adulthood with confidence. Social interactions are critical to help the puppy grow to be a calm, social member of the family. This takes a full commitment and not every family is suited to the needs or character of a Tibetan Mastiff puppy.
CFAR'S TIBETAN MASTIFFS IS PLEASED
TO ANNOUNCE OUR 2013 BREEDING PLANS!
9 PUPPIES BORN NOVEMBER 26, 2013
6 BOYS 3 GIRLS
PHOTOS HERE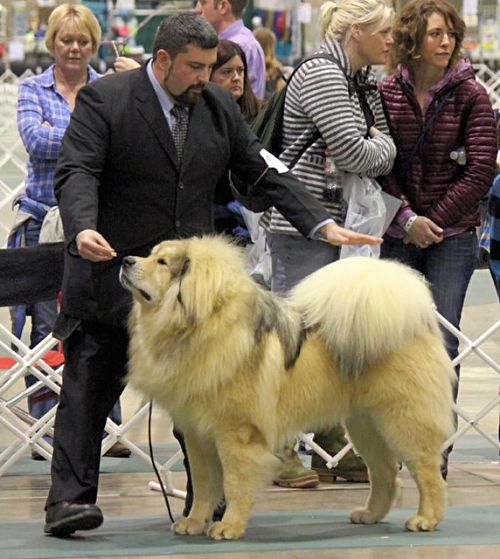 SASHA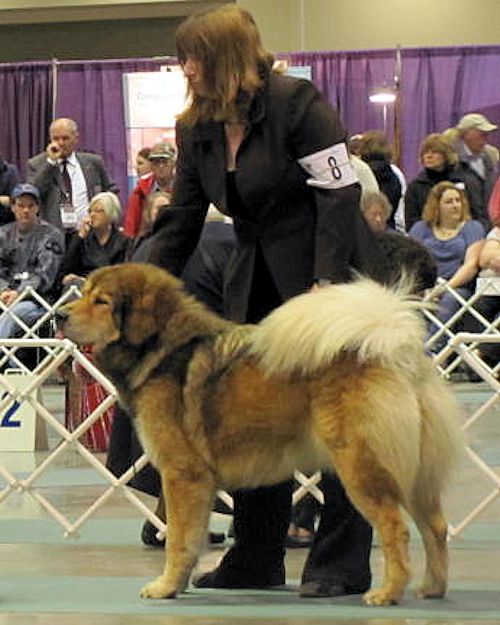 LEELOO
Multi Champion Sierra's Sasha-Yakone Nanuk
x
Cfar's Dzaybo Sengemo Legend
CFAR Tibetan Mastiffs is thrilled to announce our breeding plans for 2013. It has been 3 ½ years since our last litter. This litter was carefully planned and we took our time to carefully choose a male that would complement our girl, Leeloo. In the end, it was very obvious and exciting that this breeding would be a great mix of two very beautiful Tibetan Mastiffs with wonderful pedigrees.
Cfar's Dzaybo Sengemo Legend (call name, Leeloo) DOB: 4/29/2010
This is a tall, athletic girl. She got the best from her parents, Citadel's Don Chen Tanka and AKC Grand Champion Legend's Kailas Himalayan.. Leeloo is 28" at the shoulder and weighs 121 pounds. She is a lovely golden girl with wonderful structure and a beautiful tail. Leeloo has become our alpha female yet is a kind and gentle leader in our pack. Leeloo adores children and shows excellent guardian instincts.. Leeloo gets to use her flock guardian skills while watching our yaks, cats and chickens. She is always the first to greet visitors and when she knows you are welcome by us, she accepts you right away.. Leeloo has done well in the show ring and is pointed but in truth, being a show dog is not her favorite thing to do. She is happiest with her family and while guarding the farm.
Leeloo is OFA GOOD, elbows NORMAL, thyroid NORMAL.
Multi Champion Sierra's Sasha-Yakone Nanuk (call name Sasha) DOB: 3/23/2011
Not only has Sasha had an outstanding show career, winning the 2013 Westminster best of breed, he is also an excellent example of size, structure and correct temperament, What really convinced us that he was a great match to Leeloo was looking at the pedigrees and then watching him move! Sasha can glide like he is weightless. While visiting our farm, we were impressed with how athletic and balanced he is.. We were happy to see there was an instant attraction between our Leeloo and Sasha. Sasha's owners have gone the extra mile to raise this fine confident boy and we are thankful that he is available for this breeding. We look forward to seeing these outstanding puppies.
From his owners:
Few Tibetan Mastiffs have been greeted with as much excitement and success as Sasha. Becoming an AKC Champion and Grand champion in his first year, and going on to win several best of breeds at numerous shows including the Westminster Kennel Club in 2013. He has also won Reserve Best in Show at the prestigious Seattle Kennel club as a one year old, becoming the youngest Tibetan mastiff in history to achieve this honor at such a young age for any show.
Sasha is a striking dog and has been raised in a city environment where he is well known as the local "dog celebrity" and is loved by countless 2 legged and 4 legged friends. He is a remarkably sweet and gentle boy while maintaining the renowned Tibetan mastiff characteristics as a guardian of the home and his family.
Sasha has PennHip scores and has good hips and elbows, thyroid is NORMAL.
We expect variations of gold and possibly black & tan puppies from this pairing. Temperaments are anticipated to be exceptional. Please contact us if you would like to be considered as a home for one of our pups.
Puppy Pedigree
"Sasha"
MULTI CH Sierra's Sasha-Yakone Nanuk

GCH CH MBIS Seng Khri Bartok at Dawa
MULTI WORLD CH Mimayin Strazce Z Tibetu
Oggie Bohemia Sirague
Chenporewa Hum Helena of Sierras'
MULTI CH Cambu Sundari
CH Bodhicita Sundari

"Leeloo"
Cfar's Dzaybo Sengemo Legend

CH Legends Kailas Himalayan
Legend's St. Nicholas
CH Buddha's Legend Dollywood
Citadel's Don Chen Tanka
CH Citadel's Ajayi Cher Song Ba
Himalaya's Skyes Chen Citadel
Puppies from this union will be registered with the AKC.
Sasha x Leeloo Puppy Photos
Mario Brothers
After lots of consideration, the theme for CFAR's litter E will be Mario game characters. Here is a list of the puppies and a description of the puppy. Because the puppies are still only one week without their eyes open, it is pretty hard to get an idea of their personalities. So we will be patient and let them grow! For now, here are the names and general descriptions.
Bowser
Is a black and tan male with a small white spot shaped like a T on his tan chest and tan legs.
Mario
Is a dark gold male with 4 white paws, a large white spot on his chest, white tip on his tail.
Princess Daisy
Is a light gold female with tan markings. She has a small white tip on her tail.
Princess Peach
Is a light gold female with white around her nose, white paws and a white tip on her tail.
Shadow Queen
(Shadow) is a dark gold female with dark paws, small white on chest.
Yoshi
Is a black and tan male with a white tip on his tail, tiny white spot on his shoulders and 4 white paws. Tan markings.
Chompi
Is a dark gold male with a small white spot on his chest, a white tip on his tail.
Tubba Bubba
(Bubba) is a black and tan male with white around his nose, 4 white paws.
Boomer
Is a black and tan male with tan legs, white around his nose, white tip on his tail.